Industry 4.0 concept – requirements towards users in the age of 4th industrial revolution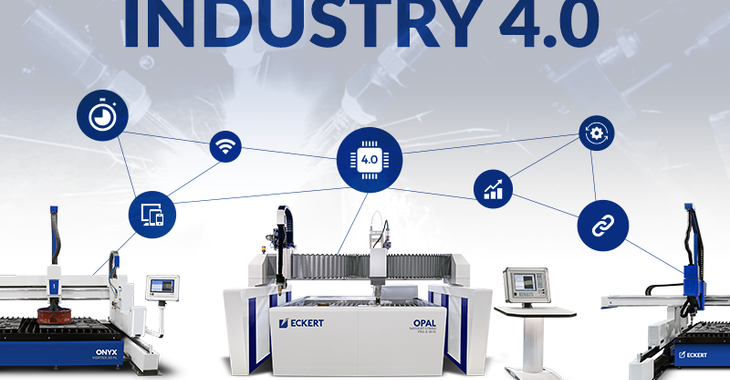 The world is facing ground-breaking changes and intensive development on the fields of science and technology for the fourth time. The concept of Industry 4.0 is rooted for good in the dynamically spreading industrial sector in Poland. Integration between real world and virtual reality of production machines lies beneath this issue. Exchange of information between all elements of machine park should be run very smooth.
Remote access to all necessary information from all around the world at any time is the foundation of the Industry 4.0 concept. Production process become more economical and allows for adjusting services and products to the individual needs of the client. An essential factor for correct implementation of this idea is keeping production costs at the lowest possible level. Entrepreneurs are forced to implement innovative software and update already existing systems that will allow efficient functioning in the new reality. All process that are applied in companies targeted to adjusting to requirements of 4th industrial revolution aim the same: development of smart factory net, that will minimize engagement of human element and maximize the communication inside the machine park whose elements will be able to make an autonomic decisions.
Important concept related to Industry 4.0 is the Internet of Things. It is intended to efficient processing enormous amount of data that are transmitted for the needs to stabilize upgraded production processes. Specialists are intensively working on developing methods for analysing large capacity data sets (Big Data) and cloud computing. Related to this are works that guarantee the highest possible network security, which is responsible for protecting gigabytes of data transmitted using these techniques. Internet of Things is also related with concepts such as 3D printing, virtual reality or special simulations. Fusion between smart machines, systems and upgrading production processes result in both efficiency maximization and possibility of introducing new products.
Thanks to many years of experience, Eckert company is aware that the most value investments are strictly related to the newest technologies. Implementing of innovative solutions results in advantages both for clients and enterprise. As a leader in the CNC cutting trade, Eckert company did not remain passive in the view of the concepts introduced by 4th industrial revolution. As one of the firsts in Poland, Eckert implemented modern ConnECKt 4.0 application which fully corresponds to the idea of ​​Industry 4.0. It is an innovative application that allows to direct monitoring machine's status from any place in the world at any time. Intuitive dashboard displays all the necessary data related to the work of the cutting machine such as: efficiency, uptime and downtime, exploitation of parts and gases, maintenance intervals, ambient temperature and many others. It is an outstanding production process improvement because it allows to run analysis and statistics on the basis of which it is possible to maximize efficiency and prevent possible faults.
Eckert ConnECKt 4.0 application debuted at prestigious ITM fairs in Poznań, Poland, where it was awarded with Gold Medal. Then subsequent awards such as the economic prize The Lower Silesian Griffin or Copper Basin Technique Champion came. It is also worth mentioning that the application was also awarded by the Chancellery of President Andrzej Duda at the Polish Economic Show 2020. The milestone in the history of developing ConnECKt 4.0 was undoubtedly first implementation in Hungarian Keviep Company, that is a leader on the market of steel constructions. During the purchase of technologically advanced Onyx 3D cutting machine, they decided to apply our modern ConnECKt 4.0 application. Installation of cutting machine and implementation of our application met with great satisfaction and customer satisfaction. Currently, a group of companies that implement machines equipped with the ConneCKT 4.0 system in their companies see real benefits resulting from the use of this software.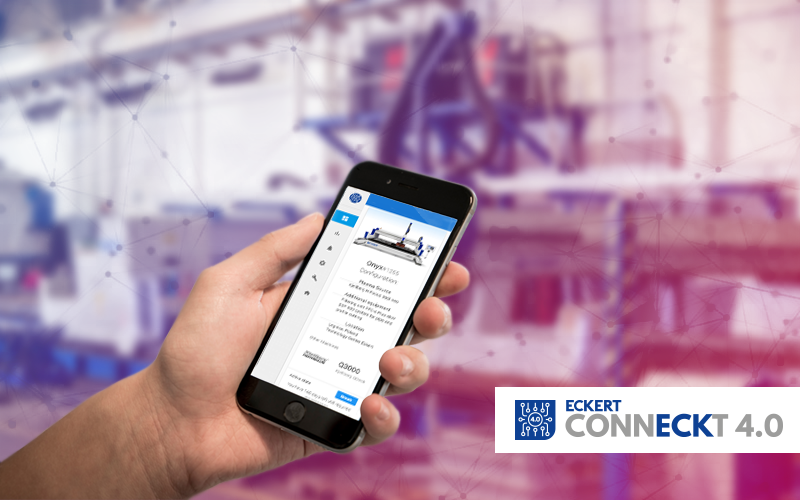 The fourth industrial revolution brought huge changes and improvements in the operation of the entire industrial sector. Strong emphasis has been put on the development of technology in the field of automation of machine park components. Companies that are aware of the power and potential that carry the concepts of Industry 4.0 have immediately reacted by implementing innovative solutions. However, this company Eckert together with the development of the modern ConnECKt 4.0 system perfectly fit into the framework of the assumptions of Industry 4.0.
We encourage you to read the comprehensive material on our innovative ConnECKt 4.0 application.