Review of CNC cutting machines 2021/2022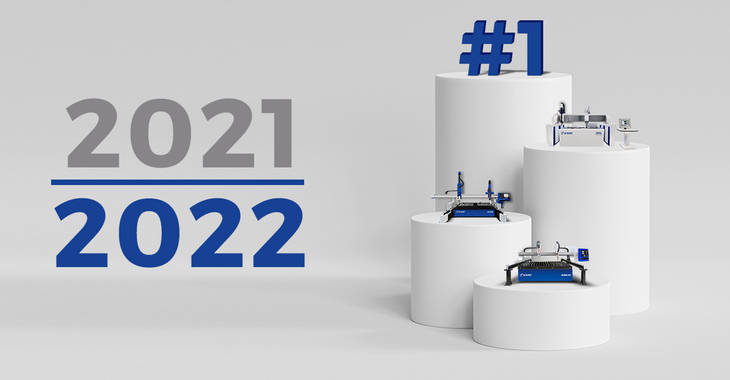 Three fundamental factors have to be analyzed while considering a purchase of a CNC cutting machine: the branch, machined material, and particular order. Currently, laser cutting technology is the one that develops the fastest, but it is plasma and oxygen cutting that are experiencing a renaissance right now. Automation of both processes is the main reason. It means that traditional cutting methods such as knives, jigsaws, saws, or guillotine shears are increasingly displaced in favour of faster and more precise devices. CNC cutting machines not only work more efficiently but they guarantee quality that doesn't require additional post-treatment and doesn't engage an operator in the whole cutting process.
Factors determining the development of cutting processes
Modern cutting methods used in plants are mostly determined by the automation of cutting processes, the necessity of adopting them to Industry 4.0 requirements, and also the need to raise efficiency and reduce costs at the same time. The expectations concerning the produced part quality are also very high. Considering the possibilities currently offered by CNC cutting machines, the costs of the machine pay for themselves shortly after purchasing the device. We encourage you to read the review of the machine that is a good foundation to verify which machine suits your needs.
CNC cutting machines from the top shelf
The category of high-end machines includes two of our best players. The first is Sapphire, the leader of heavy-duty. It is a proper solution for heavy-duty, and its potential is especially appreciated amongst customers from shipyards, machine manufacturers and all of whom choose quality and reliability. Sapphire can handle an oxygen torch, plasma head, and both at one gantry. One of our biggest customers, the German company DELA invested in 5(!) Sapphire machines and one of them was equipped with a modern oxygen-cutting system made of 5 independent oxy torches. DELA machines' working area size is 4000 mm x 12000 mm. We prepared a working area of uncommon size 3000 x 24000 mm for another customer. Each offer prepared by Eckert salesman is based on a detailed conversation and adjusted to the customer's needs and expectations.
Modern solutions implemented in plasma cutting machine
Onyx is the other strong ace in our portfolio from the top shelf. At first glance, the modern design draws all attention, but the technical parameters stand for a good choice. Onyx construction is based on technologically advanced solutions which guarantee stiff and stable gantry construction and resistance to extremely high temperatures occurring during the plasma and oxy cutting. Plasma-oxygen machine Onyx thickness cutting range reaches 300 mm. Plasma cutting machine works great during the 3D automated sheet, pipes, and profile cutting.
High quality at a standard price
Jantar is a machine from the economic price class. It is one of the most chosen models due to the lack of competition in its price range. Jantars work both in small and big industrial plants all over Europe, delivering parts of high quality. The plasma cutting machine can be extended with additional equipment such as plasma marking, punch marking, drilling, and ESR300 system for cutting pipes and profiles.
Solutions for SME enterprises
CNC cutting machine Ruby which comes in two versions offers very good quality at a standard price. Rubin Eco is a basic version that stands out for modern construction and intuitive maintenance, even for beginners. Application of innovative design solutions allowed for to reduce of the complexity of the machine, and the cost of its purchase and operation. Rubin Eco works only in plasma cutting technology. The cost of such a plasma machine oscillates around tens of thousands of euros.
Rubin HD is an extended version. Functionality and simple construction were two main assets taken into consideration during its design. Simple construction made its maintenance possible for the operator of basic skills, without the necessity of long-term training. The main difference between the HD and basic versions is the possibility of equipping it with oxygen-cutting technology. This is the answer to SME enterprises' needs offering both services and products.
Non-thermal cutting technology
If you are looking for a versatile CNC cutting machine sharing features of thermal and non-thermal cutting, then Opal Waterjet Combo is the perfect answer. This cutting machine is equipped with a water head and plasma support at one gantry. OWC doesn't need two separate programs to start cutting in two technologies, so it offers the speed of plasma cutting and waterjet precision. In addition, two technologies at one machine mean area savings at a production hall. Waterjet is a very strong advantage since it is the most versatile technology of all discussed in this piece. It cuts metal, plastic, rubber, foam, and even paper. And this isn't all. We offer also opal Waterjet that uses only waterjet.
Find out more
The above overview shows the range of cutting machines available on the market, which operate in various technologies and ranges of cutting possibilities. Eckert's team is always ready to answer all questions and conduct a detailed interview with the customer to determine exactly what his expectations are for the cutting machine. It is worth mentioning that each order is created individually to meet the requirements of the future user. Feel free to contact us!