Plasma-oxygen cutting head Dual Flex 3D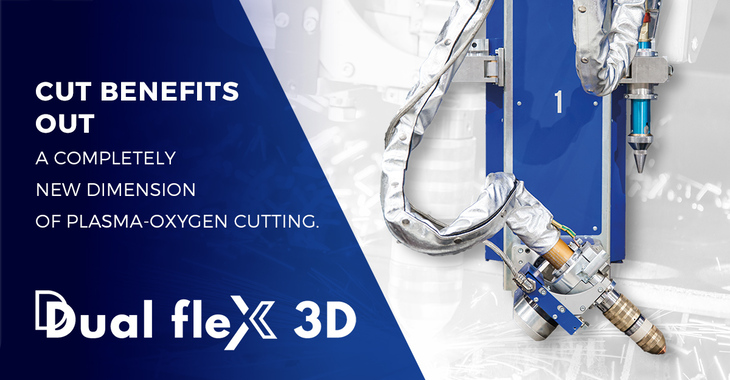 Customer needs research allowed us to specify the barriers faced by oxygen and plasma-cutting machines during the production of parts from various industries. Based on these results our engineers have made every effort to ensure that Dual Flex meets all expectations and becomes a universal tool in production and service plants around the world.
Plasma-oxygen cutting head Dual Flex 3D
This is a tool that transfers the two oldest CNC cutting methods to entirely different levels. It is a solution based on two exchangeable torches guarantying the best possible cutting quality in the shift system. Sounds a little bit complicated but the power lies in simplicity. Are you looking for a tool for cutting and welding preparation metals of a wide range of thicknesses? Dual Flex 3D can cut and bevel up to 100 mm with plasma or oxygen torch, including complicated contours. It makes Dual Flex 3D a versatile tool for production and service plants, despite of the branch.
Dual Flex 3D: following advantages
Cutting and bevelling range between 1 – 100 mm
Unlimited axis rotation and head angle deflection +/- 52° while plasma cutting
The possibility of machining at an angle of +/- 45 ° and the revolutionary oxygen cutting system provides extra wide ranges of welding preparation
Best bevelling repeat accuracy of the entire thickness range
Optimum cut accuracy ensures perfect post-processing conditions
Cutting with 3D technology in combination with a rotator gives the possibility of creating complex tubular structures together with the preparation of welding bevels
Material utilization, energy consumption, noise level, and pollution at welding preparation are reduced to a minimum compared to manual work
Additionally, the cutting head is equipped with a sensors package that protects the operator and guarantees stable cut process flow. Linear bearings in the Z axis ensure high rigidity and smooth operation. Cutting head works on innovative strain wave gearing resistant to extreme conditions (same as NASA™). Kjellberg and Hypertherm plasma sources support the Dual Flex 3D. And it only goes with the GCE FIT+ oxygen torch.
Choose plasma-oxygen cutting head Dual Flex 3D
If you look for a versatile tool for plasma and oxygen cutting, then Dual Flex 3D is the answer. Just contact our experts, who are always willing to share their knowledge and experience gathered over the years. What's more, each customer is treated individually, and the order is based on strictly specified conditions.
Over 1800 Eckert cutting machines have been assembled in 36 countries over 30 years.