Q to the future!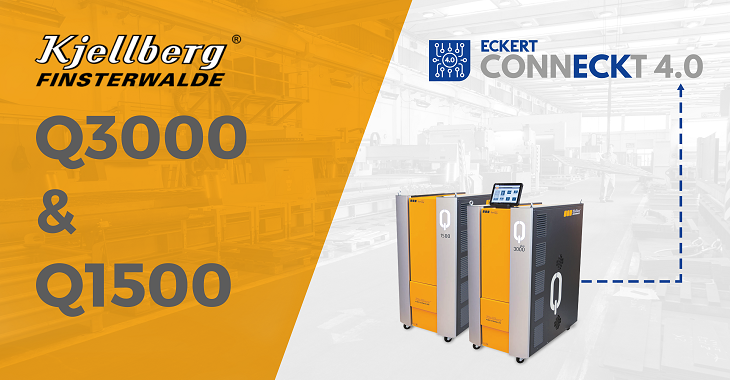 Kjellberg company is one of leading players on the market of plasma sources.The 60th company anniversary was celebrated by launching new generation of plasma sources, identified by the letter "Q" in the product name. They are adjusted to the dynamic development of plasma cutting market. Our product portfolio of CNC plasma cutting machines was enriched with the two newest devices Q1500 and Q3000 that can satisfy requirements of the most demanding customers.
Modern Q-design and state-of-the-art technology are Kjellberg's foundations for constructing all devices. The result of full process automation of Q1500 and Q3000 sources is reaching for completely new level of cutting precision. Devices are compatible with the concept of Industry 4.0 that aims to integrate all elements of a smart factory. Kjellberg has equipped its plasma sources with an independent dashboard called Q-Desk. This interface displays all data concerning the process, the consumables used and also machine wear in real time. Due to this, user can arrange and realise tasks related to process maintenance.
Technical abilities of Q1500 and Q3000 are quite impressive. The cutting range thickness is set between 0,5 - 80 mm. Sources are equipped with a number of modern improvements including Q-Mark and Q-Hole technologies that allow for marking and applying texts and developed shapes with the highest possible precision. Q-Mark is a kind of marking characterized by achieving outstanding results without visible penetration. On the other hand, Q-Hole is a technologically advanced tool that redefined hole quality, which realises hole diameters of up to 1:0,75 to material thickness.
Use of proven cutting technologies such as Contour Cut, Contour Cut Speed or Silent Cut influence the optimisation of device's work. Contour Cut is a technology designed for cutting small shapes and unusually tiny holes in mild steel. It is worth to mention that with the use of this technology for cutting holes with a diameter to thickness ratio of 1:1, user can achieve the best possible quality. Contour Cut Speed allows for cutting contours with similar quality, up to 50% faster. Silent Cut technology lowers the noise level up to 15 dB(A) during plasma cutting.
Products from ,,Q" series are perceived as the fastest sources on the market. Process speed was improved by shorter cycle between cuts and highest cutting speeds, that lowers process costs dramatically. It also has a positive impact on the lifespan of consumables. Combination of the newest technologies and solutions resulted in longer lifetime of the source.
Also, the construction of the Q1500 and Q3000 is not random. Obviously, they have a unique "Q" design. Modular structure based on Plug&Play system allows for extending machines' capabilities along with the growing needs and requirements of users. This means that for example Q1500 can be upgraded to Q3000 plasma easily.
Innovative bus system grants failure-free connection between all the components.
All these elements result in full process optimisation that is main target for most of modern plants.
Complex researches that have been ran over the years by Kjellberg company resulted in production of first-class devices and gaining the title of the prestigious producer. Q1500 and Q3000 plasma sources stand for modern, technologically-developed products that offer the best possible cutting quality on the market. Undoubtedly, that is the answer for the needs of the most demanding customers who reach for the best.