Filter your savings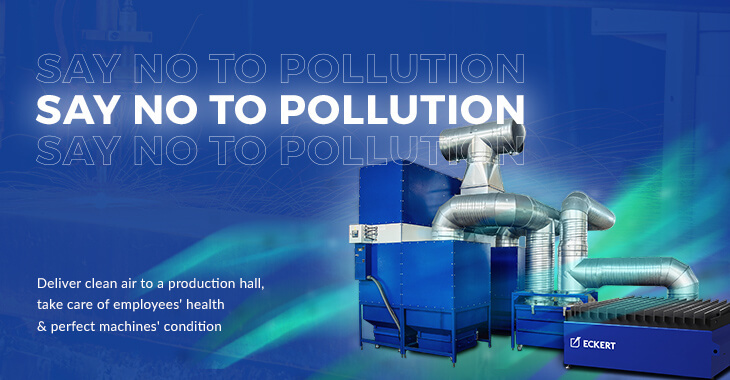 Ways to keep clean air inside the plant
Delivering fresh air to a confined space is possible due to the well-conceived assembly of a ventilation system. Nonetheless, fast development of the industry and production environment enforced the introduction of filtering units. These are devices of advanced possibilities of air purification and filtration, effectively reducing dust, fumes, steam, filings generated during the cutting process. Contamination around workstations significantly affects the comfort and efficiency of an employee, often causing occupational diseases.
Permissible norms and threats related to their exceeding
The permissible concentration of air pollutants in the workplace is governed by the relevant regulations. It is important that the concentration of harmful pollutants in the air does not exceed its maximum permissible value. According to the official definition:
"Weighted average concentration, the impact of which on a worker during the 8-hour daily and 40-week working time throughout his working life should not cause negative changes in his health and the health of his future generations".
For example, nitrogen dioxide concentration released while plasma cutting should not exceed 0,7 mg/m³. Gases and liquid aerosols are a big threat for employees because of their toxic, flammable and explosive properties. Dust particles may be allergenic, carcinogenic, radioactive, toxic or fibrotic. A filtering unit is a shield that takes care of the health of the employees. It allows reducing possible diseases and sick leaves that strongly influence productivity and staff rotation. An efficient employee is primarily responsible for an efficient production chain.
Machines in danger
An often overlooked aspect while speaking of ventilation and filtering is the impact of airborne pollutants on the condition of machinery and equipment in the production hall. Freely floating clouds of dust, filings and particles settle on the equipment, gradually leading to failure. It is worth remembering that exceeding the permissible concentrations of flammable or explosive substances may lead to explosions and fires in the production plant. Contamination also leads to damage and faster wear of the consumable parts. Electronic components are extremely vulnerable. If they get into mixtures or raw materials used in the cutting process, they can significantly affect their quality. Downtime resulting from the need to repair machines usually exposes companies to considerable costs.
Filter your savings
Filtering units are not only the best way to maintain the health of employees and the good condition of machines. It is also a terrific method for extra savings. Production processes that are accompanied by the release of large amounts of polluted air and the generation of significant amounts of heat mean great financial benefits. Eckert PFC filter fans have a dedicated summer/winter switch, which allows for the recovery of artificially heated air. Instead of letting them outside, you can use them to heat the production hall. Thanks to this, considerable savings of thermal energy can be achieved
Benefit from spring special offer
Several filtering units' advantages clearly speak for the use of such a system in an industrial plant. Along with the beginning of spring, Eckert encourages you to carry out a thorough cleaning of industrial halls. If you plan to equip your industrial park with a CNC cutting machine, choose us - and we will offer you a modern filtering system up to 5,000 euros cheaper! Check the details of our special offer and contact our specialist who will dispel all doubts!