Our big Greek success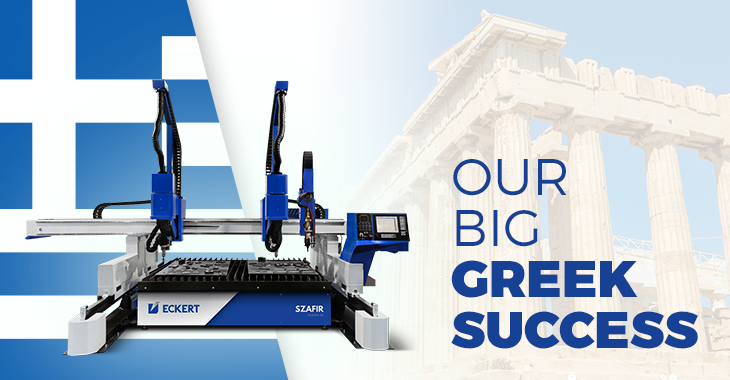 Greece is a country that usually brings positive associations with holidays and rest. However, no one else, but our several-year-old distributor Papathanassiou S.A. does not rest on its laurels, successively expanding the group of users of Eckert cutting machines. Papathanassiou S.A. is a player experienced in promoting welding and cutting equipment on the Greek market. Acting since 1979, knows the industry like a book, being a trustworthy business partner. The vision of Papathanassiou S.A. company is to provide the client with the most efficient and technologically advanced solutions offered by world market leaders.

Cutting machine Sapphire works in plasma and oxygen technology and will be implemented in Xalyvokopi S.A. industrial plant already in mid-May 2021. For over a hundred years, the company has belonged to a group that is active in the trade and processing of iron and steel products. Currently, the company deals with cutting services and is one of the largest companies in this field in the Athens region. Implementation of the Szafir machine at the company Xalyvokopi S.A. is a step toward a significant expansion of the business offer, because until now the cutting process at the plant was only handled by oxygen cutting machines. At the same time, Sapphire will be the most modern machine in the Greek machine park, supported by the latest model of the plasma source from Hypertherm XPR 170.